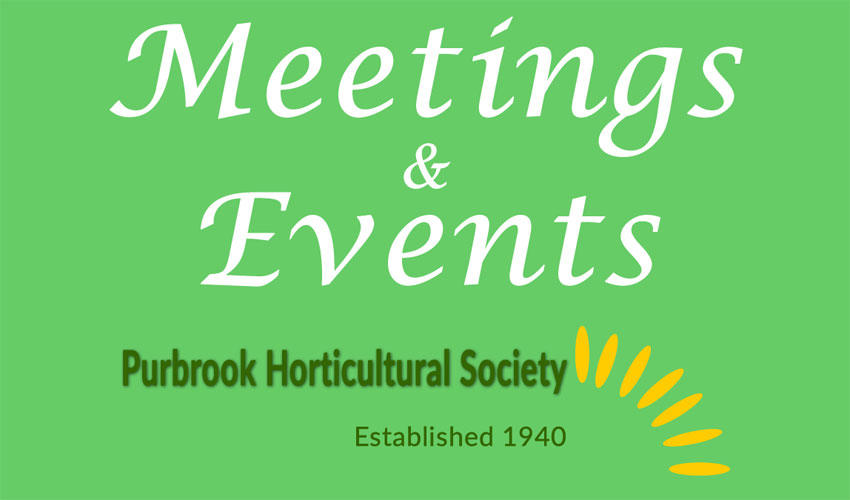 Meeting and Events
Throughout the year Purbrook Horticultural Society lay on a series of informative meetings about gardening, conservation, plants, nature, flower shows and lots more besides. On this page you can see our list of forthcoming meetings for the year ahead.
2020 Programme and Meetings
Thursday 6th February
Tree Fruits — Peter Barwick
Peter Barwick will talk about Tree Fruits. Most of us have at least one tree in the garden and it would be good to get the most from it. Peter spent 50 years as a commercial fruit grower spending the last 20 at Blackmoor Estate who supply fruit to all the leading supermarkets, therefore he knows his stuff.
Thursday 5th March
Nab Tower to the Round Tower - Dave Allport MBE
Dave Allport MBE took us down the Thames last year and really brought it to life. I have chosen a talk which cruises from the Nab Tower to the Round Tower. Bring your lifejackets and seasick pills. Dave joined the Navy at 16 and retired in 2006. A lot of his talks are based around his huge knowledge of the sea. He has great experience in public speaking and has 'trodden the boards' so look forward to an entertaining evening.
Thursday 2nd April - MEETING CANCELLED COVID-19
Alpine and Rock - Ray Broughton
Ray Broughton has been to us many times and is an excellent speaker having taught horticulture for 39 years. He has been awarded many accolades and was made a Fellow of the Chartered Institute of Horticulture in 2000. He was head of education at Sparsholt College for 12 years. He will share his knowledge of Alpine and Rock Gardening with us.
Thursday 7th May - MEETING CANCELLED COVID-19
Greenhouse Year - Gillian Taylor
Gillian Taylor is an experienced plantswoman and gardener. She has attended courses at Wisley and Great Dixter and has developed a garden from scratch in France. Gillian will speak about her 'Greenhouse Year'.
Thursday 4th June - MEETING POSTPONED COVID-19
80th YEAR CELEBRATIONS
80th Celebrations - Postponed as hope to re arrange for later in the year when we are both authorised by Government and we feel members would feel more comfortable in congregating.
In recognition of this being our '80TH YEAR' Karen Williams known as 'Just Karen' who is a professional singer, a solo artist using backing tracks, will be joining us at Deverell Hall. Karen lives in Hayling Island and performs at clubs, restaurants, weddings, care homes and private parties. She will help us to celebrate 80 years as a garden club by singing through the years and we hope you will join us and enjoy the music.

A strawberry and cream tea will follow with a few wall quizzes for you to have a go at, prizes will be in old money.

We hope during the evening you will also admire the schools competition entries and vote for your favourite one, it is important that we encourage our future gardeners.
Thursday 2nd July - MEETING CANCELLED COVID-19
Cats of the Wild - Deryn Hawkins
Deryn Hawkins is a photographer and comes with high recommendations from another club. She is a member of the Hants and IOW Wildlife Trust but veering away from that I have chosen her talk ' Cats of the Wild'.
Thursday 6th August - MEETING CANCELLED COVID-19
Birds in your Garden - Steve Oakes
Steve Oakes is an active member of the RSPB. He will give us a talk on 'Birds in your Garden'.
Thursday 3rd September - MEETING CANCELLED COVID-19
Passion for Poppies - Sandy Worth
Sandy Worth has a 'Passion for Poppies' and that is the title of her talk. She is the owner of Water Meadow Nursery in Cheriton and holds the National Collection of poppies. Cultivars such as Patty's Plum and Lauren's Lilac were developed by Sandy amongst others. Once you have established poppies they are a colourful treat in the spring and real eye catchers.
Thursday 1st October - MEETING CANCELLED COVID-19
Pumpkin and Quiz Evening
This our usual Pumpkin and Quiz evening. This will probably be the last year in this format as we are not really getting enough entries for the pumpkin/squash categories. Please prove us wrong by entering a record amount of decorated or home grown produce. Phil and I welcome any ideas for changes to the evening.
Thursday 5th November - MEETING CANCELLED COVID-19
Wildlife of Namibia – Andrew Watts
Andrew Watts has always had an interest in all kinds of flora, fauna and wild places. He has had a lifelong interest in photography and his subjects range from small insects to big game. He has often had pictures published and has twice been highly commended for Wildlife photographer of the year. He will entertain us with a talk and photos of the the 'Wildlife of Namibia' which will include flora and fauna of Etosha National Park and the Namib desert.
Thursday 3rd December
AGM. Your chance to have your say in the running of the Society.
ARE YOU INTERESTED IN GARDENING?
The society is open to ALL who are interested in gardening. Meetings and talks are held at DEVERELL HALL, LONDON ROAD, PURBROOK and start at 7.30pm.
For just £6.00 PER YEAR for a household, you can access these meetings and our Trading Store which offers discounted gardening items.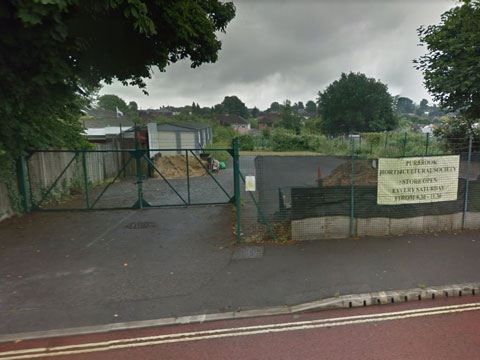 PHS Trading Store
Open every Saturday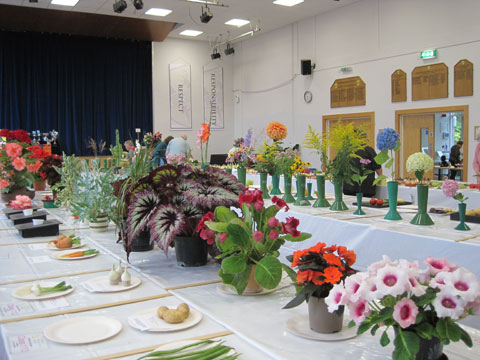 Shows & Exhibitions
Annual shows in Purbrook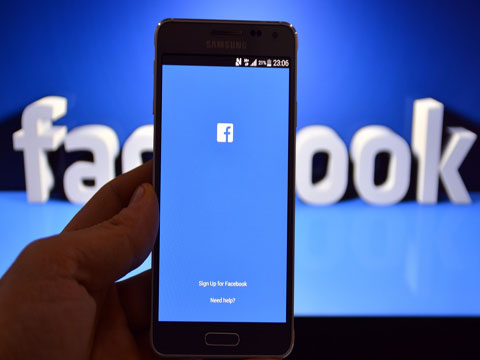 Find Us On Facebook
News and Latest on Facebook
---